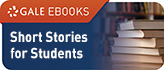 For middle school students through adults.
Collection includes Volumes 1-52 and is a guide to understanding the most studied short stories.
Details:
Provides critical overviews of short stories from all cultures and time periods.
Includes discussions of plot, characters, themes, and structure as well as the story's culture and historical significance.
Provides information on media adaptations, suggested readings on similar themes and topics, as well as classroom aides.